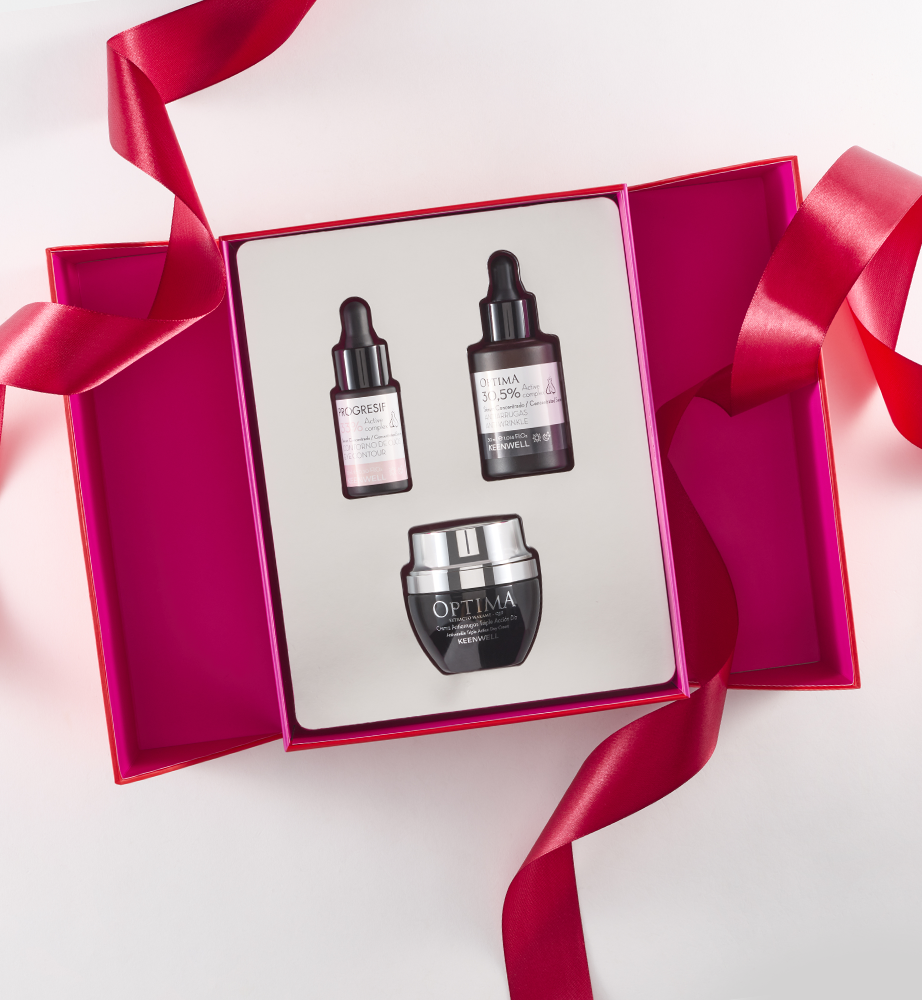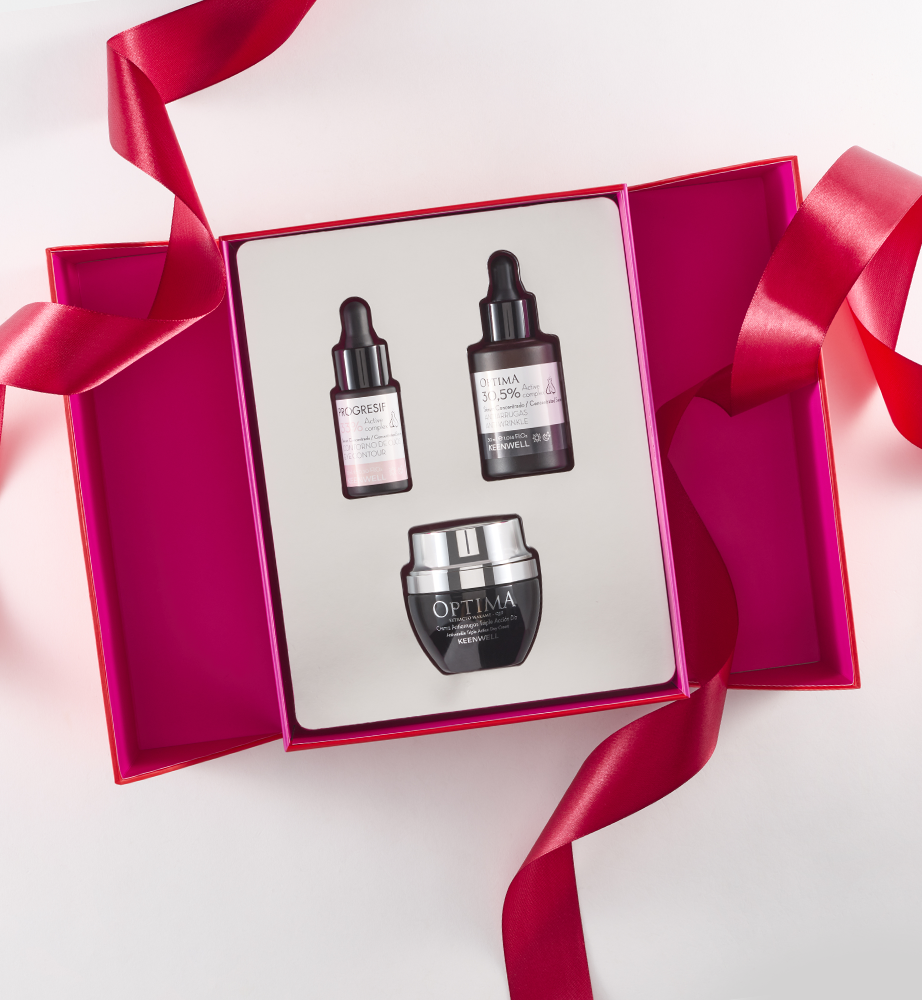 Christmas Pack OPTIMA 22-23
Code: K4750232
OPTIMA - Crema antiarrugas triple acción Día
Anti-wrinkle triple action Day Cream - it improves and reduces the three types of wrinkles: superficial, expression and deep wrinkles, maintaining the "triangle of beauty". it activates cell metabolism and exerts an antioxidant action that combats premature aging. it prevents free radicals formation and preserves skin hydrolipidic reserve. it reactivates 14 genes in 4 collagen phases: synthesis, maturation, assembly and anchorage, to exert a real dermic recovering.
OPTIMA Anti-wrinkle Concentrated Serum 30.5% active Complex
Effective anti-wrinkle concentrated serum, inspired by the most advanced cosmeceutical treatments. Highly concentrated (30.5%) and formulated with exclusive cosmetic technologies, it is the best beauty tool to prevent, combat and reverse the visible signs of aging. its vegan formula, with 97% natural origin ingredients and without oils, contains a combination of 4 types of hyaluronic acid, which form a three-dimensional network to precisely reach the different layers of the skin, replenishing water on the outside and retaining it from the inside; with bakuchiol (the natural, plant- based and non-irritating alternative to retinol), ferulic acid, niacinamide (vitamin B3), different peptides with powerful anti-wrinkle activity: Argireline®, copper tripeptide. Also contains Wakame algae, Chia and edelweiss extracts. it helps to instantly improve visible signs of aging, and contributes to reducing the 3 types of facial wrinkles and improving, in the long term, the appearance of facial and cleavage skin. For skin with signs of chronological / photo-induced aging, oxidative stress and dehydration, both in men and women. ultralight, easy to apply and quick absorption texture.
PROGRESIF multifunctional eye contour concentrated serum 33% active Complex
The most effective way to beautify and revitalize the eye contour, and achieve a more youthful, rested and luminous look. Vegan oil-free formula, with 33% of concentrated active ingredients and 95% natural origin ingredients. With anti-aging action: acts against wrinkles, expression lines and loss of firmness. With anti-bag action: decongests and improves lymphatic drainage. It fights the edematous accumulations that cause the appearance of bags. With anti-dark circles action: reduces dark circles by favoring the elimination of pigmented residues. With revitalizing action: provides an energizing effect and an anti-fatigue action, for a more luminous skin, with better tone and healthier appearance.
Size:
OPTIMA - Crema antiarrugas triple acción Día 55ml. ℮ 1.85Fl.Oz OPTIMA Anti-wrinkle Concentrated Serum 30.5% active Complex 30ml. ℮ 1.01Fl.Oz PROGRESIF multifunctional eye contour concentrated serum 33% active Complex 15ml. ℮ 0.5Fl.Oz